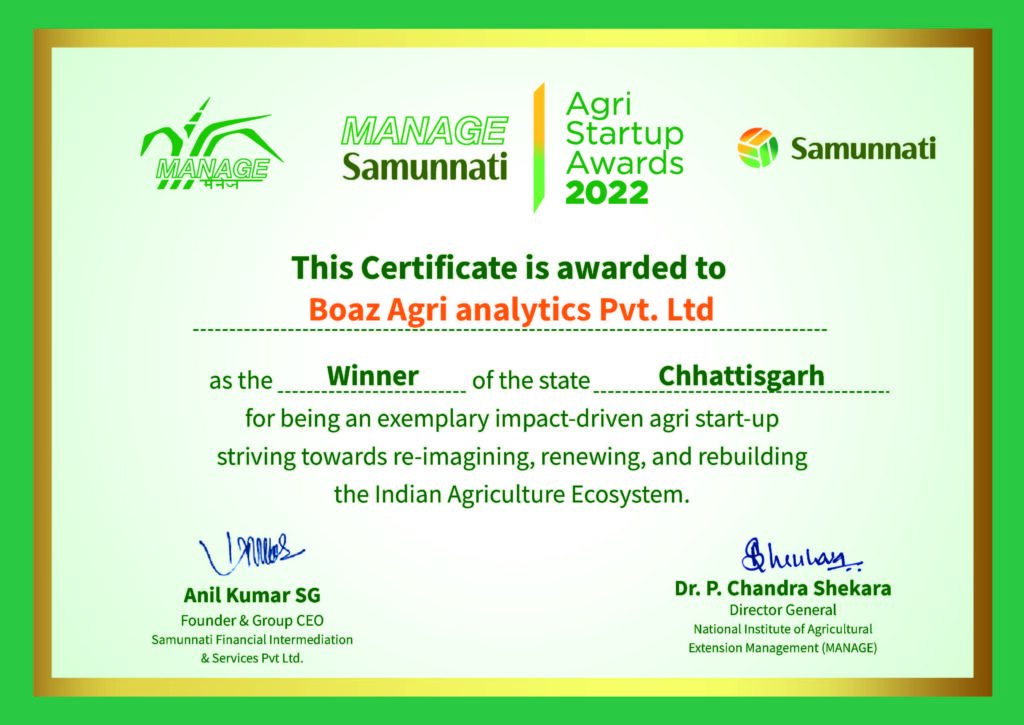 We are grateful that our efforts to support farmers and improve the agricultural ecosystem have been noticed. Cropway (Boaz Agri Analytics Pvt. Ltd.) was recognised today at MANAGE, Hyderabad, as the State of Chhattisgarh's winner of the "MANAGE-Samunnati Agri-Startup Awards 2022."
Cropway receives recognition for "being an excellent impact-driven start-up pushing towards reinventing, renewing, and rebuilding the Indian Agricultural Ecosystem" in order to receive this award. Sushri Shobha Karandlaje, Union Minister of State for Agriculture and Farmer Welfare, Government of India, Mr. Anil Kumar SG, Founder & CEO, Sammunati; and Dr. P. Chandra Shekara, Director General, MANAGE, honoured the occasion with their presence. The second iteration of this Award featured a number of Agritech businesses ranging in age from 2 to 7. An expert jury selected the winners based on the winning concepts' uniqueness, effectiveness, consumer satisfaction, and local impact.
Let's come together to empower our farmers.
You might also want to read: Cropway recieves it's first grant from IGKV RKVY RAFTAAR