Geospatial Analytics & locational intelligence
Cropway's geospatial intelligence allows all actors in the agricultural value chain to monitor and respond more quickly…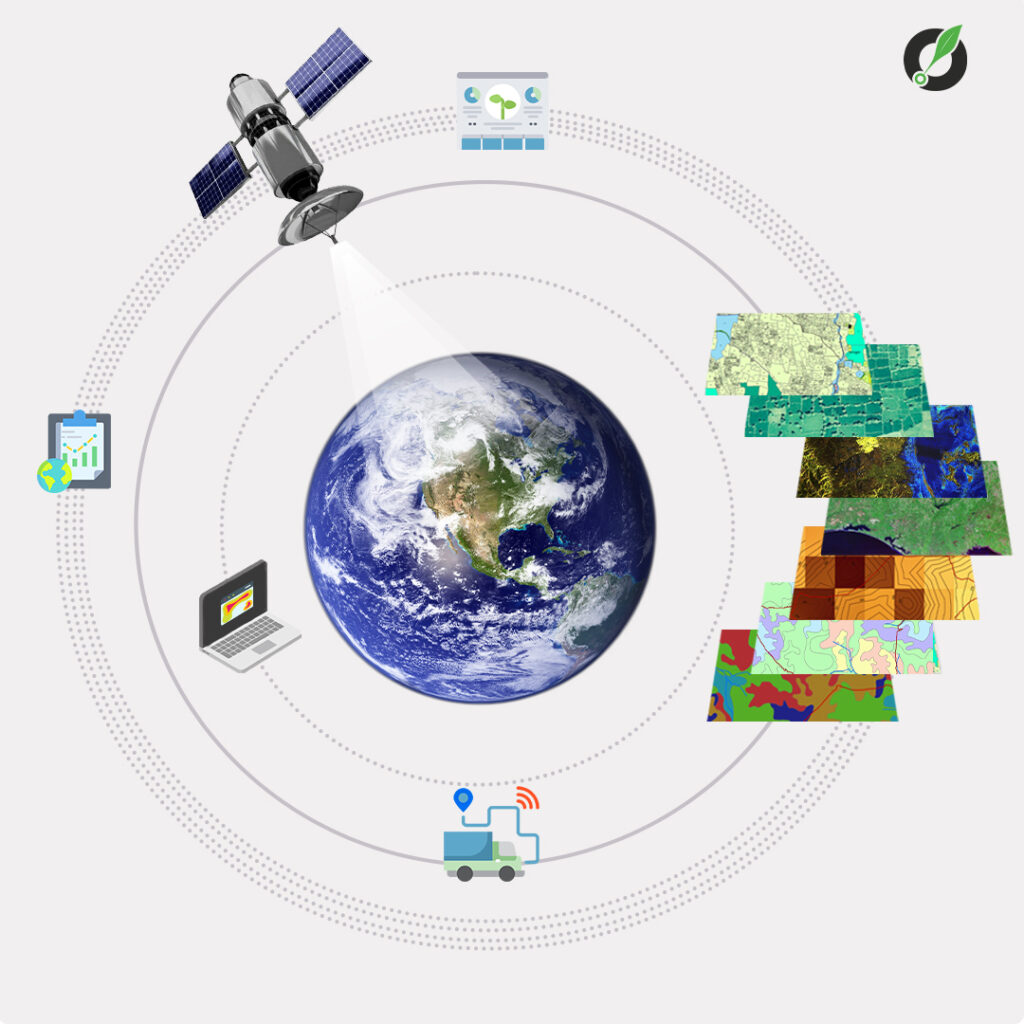 Geospatial Analytics GIS & Remote Sensing Company
Cropway's geospatial intelligence allows all actors in the agricultural value chain to monitor and respond more quickly. Sophisticated satellite technology and artificial intelligence techniques enable satellite data to deliver near real-time agricultural industry-specific analytics, putting actionable information in the hands of farm management at precisely the right time.
Why Prefer Spatial Technology for Agriculture?
Although natural agricultural inputs cannot be controlled, Geospatial technologies can help us better understand and manage them. They may substantially benefit in crop production estimation, soil amendment assessments, and the identification and correction of erosion. Crop estimates that are more exact and reliable aid in reducing uncertainty.
The Cropway Geospatial Advantage
The Cropway Platform enables collaboration between the commercial, GIS, and data science industries to produce predictive insights quickly.Using remote sensing, machine learning, and statistics, we combine geographical and non-spatial data to provide a comprehensive picture of a customer's needs in the supply chain.
Drive better business & policy decisions – a step closer to sustainability!
To successfully estimate and optimise agricultural yields, our geospatial scientists analyse satellite, weather, agro-meteorological, and biophysical data and further model it to the problem statement. Accurate agricultural yield forecasting can help to avoid unfavourable market reactions caused by future food shortages, hence ensuring food security.
Crop yield data can also assist food processors in gaining control of their supply networks and manufacturing operations, allowing them to become more efficient and sustainable producers. It can also help producers plan ahead, provide information to investors and lending institutions for monitoring land-use practises of farms in their portfolio, and identify and prevent potential hazards for both inputs and outputs.
GIS & Remote sensing resources
Learn more about geospatial analytics and its numerous features, such as its importance, applications, and implementation factors, by exploring our educational resources.
A system called the geographic information system (GIS) is one that collects, organises, processes, and maps all kinds of data. GIS connects data to a map and combines all kinds of descriptive data with locational data (where objects are) (what things are like there). This offers a basis for mapping and analysis, which are applied in science and practically every sector of the economy. GIS aids users in comprehending trends, connections, and geographic context. The advantages include better management and decision-making, as well as enhanced communication and efficiency.
Geospatial analytics collects, processes, and visualises GPS and satellite imagery as well as other data from geographic information systems (GIS) to derive meaningful information. This kind of analysis can emphasise both current and historical trends. Even those that are highly likely to occur in the future. Geospatial data analytics employs geographic coordinates, statistics, graphs, and unique identifiers such as a street address and zip code. They are used to construct geographic models and data visualisations for more precise modelling and trend forecasting.
Geospatial data are details on things, events, or other characteristics that appear as a location on or close to the earth's surface. Geospatial data typically combines temporal information with location information (usually earth coordinates) and attribute information (the attributes of the object, event, or phenomenon in question) (the time or life span at which the location and attributes exist). In the short term, the location reported may be static (such as the location of a bridge, atsunami event, or an area with drought) or dynamic (for example, a moving car, or the spread of a contagious illness).
Examples of Geospatial Data?
Geospatial data comes in many forms, including:
Attribute(tabular) and Vectors data
To run searches and analysis, link data sets, plot particular variables on a map, and more, attribute (tabular) data can be employed.When used to represent geographical characteristics with discrete borders, vector data performs best (e.g., streets, land parcels, administrative boundaries, etc. Overall, both are used to describle the points, lines, polygons, and other details in a place.
Point cloud data
A point cloud is a collection of points used to dynamically store data. They can be used to generate 3D models and are obtained using LiDAR devices.
Satellite and Raster Imagery
The purpose of satellite imagery is to provide an aerial perspective of the Earth using high-definition imagery. While Raster data are often used typically depict continuous data (e.g., temperature, elevation) and can also be used to depict discrete data as well (e.g., land cover type).
GIS data, in the form of an interactive digital map, may help agricultural lenders, investors, and growers visualise and track elements such as irrigation, soil conditions, agricultural patterns, and more. Investors and lending institutions can monitor the land-use practices of the farms in their portfolio as well as identify and mitigate any water hazards by monitoring both inputs and outputs. Growers can recognise specific parcels and places that require correction and better manage their water resources. This is also applicable in the case of other natural resources that are scarce.
Geospatial analytics is being used by hundreds of thousands of businesses in almost every industry to create data-driven decisions that facilitate global communication, analysis, information sharing, and complicated issue-solving.
This technology's applications include weather forecasting, supply chain optimization, and traffic navigation, among others. It is also used by online delivery apps for effective route planning. Furthermore, it helps the government make wiser decisions, especially when dealing with scarce resources.
While GIS would be a computer system that consists of software used to analyse the acquired data and hardware that the software would function in, remote sensing is a surveying and data gathering technique used to survey and collect data regarding an item.
GIS is widely used in agriculture to analyse land, visualise field data on a map, and in turn make use of that data to make informed decisions. Thanks to remote sensing and GIS technology, organisations can acquire reliable information about both natural and man-made features, in addition to processed and appropriately interpreted events occurring on the earth's surface.
Precision farming, which is aided by GIS, enables farmers to make smarterchoices and take appropriate action in order to maximise yields per acre while minimising environmental effect. Satellites, aeroplanes, drones, and sensors, to name a few technologies, are used in agricultural geospatial technology. Images can be made and linked to maps and non-visualized data using these tools.
Geospatial techniques are generally used on the surface to map groundwater supplies, drainage patterns, and the provision of variable rate fertiliser, pesticide, and insecticide management. Geospatial technology also provides numerous benefits in terms of improved farming practises, resource management, outcome prediction, and increased yields.
Looking for ways to implement Geospatial GIS solutions for your agribusiness? Let's connect!