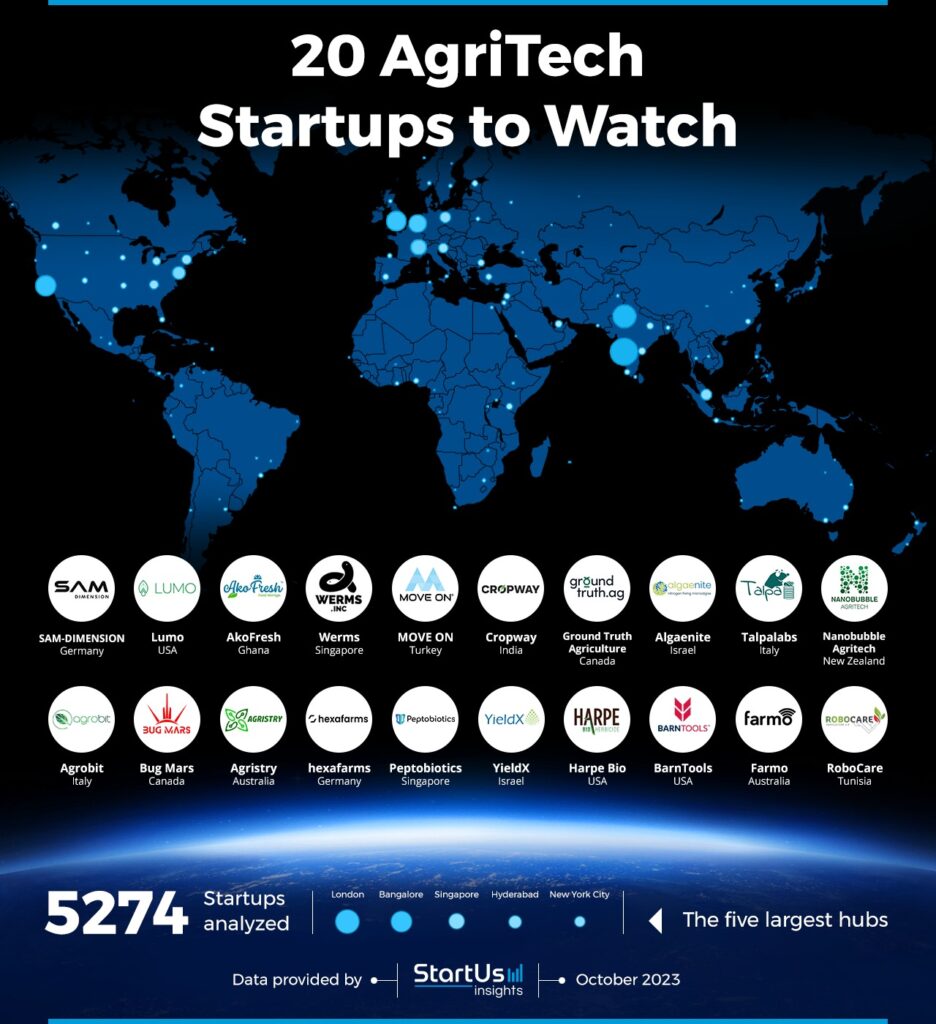 Cropway: Pioneering Agtech Innovation – Among Top 20 AgriTech Startups to Watch in 2024
In an age where the agricultural industry is undergoing a profound technological transformation, Cropway is thrilled to be recognised as a frontrunner in the AgriTech landscape for its innovative solutions. The Indian startup based out of Raipur, Chhattisgarh has earned a spot among the "20 Innovative AgriTech Startups to Watch in 2024" according to a report by Startus Insights, a leading market intelligence platform.Being one of the world's most extensive repository of data on emerging companies, the SaaS platform empowers you to swiftly and comprehensively identify relevant technologies and industry trends.
According to the platform's data, the primary AgriTech Startup Hubs are located in London, Bangalore, Singapore, Hyderabad, and New York City. These hubs serve as epicenters for innovation in the agricultural technology sector. The 20 startups featured in this report, meticulously selected from a global pool, span diverse regions and contribute groundbreaking solutions for various agricultural challenges. Their innovations range from early-stage plant disease detection and poultry biosecurity to advanced crop mapping technologies and beyond. Cropway's inclusion reflects our dedication to addressing critical challenges within the sector.
Startus Insights' comprehensive report sheds light on the transformative trends in agriculture. The report underlines the imperative need for technology-driven solutions in the current agricultural ecosystem and emphasizes the significance of precision in insights and stakeholder-customized solutions. In this evolving AgriTech landscape, Cropway stands out for its state-of-the-art offerings, providing integrated solutions that empower farmers and stakeholders alike. Moreover, the report explores the dynamic landscape of emerging agricultural trends, from the integration of new technologies to meet the demands of farm automation, digitalization, and sustainability. The shift towards smart farming, incorporating IoT, computer vision, and AI, aligns with Cropway's vision for the future of agriculture.
The report underscores the lack of technology-driven solutions within the current agriculture ecosystem, emphasizing the necessity for precision in insights and stakeholder-customized solutions for farmers, input companies, traders, lenders, insurance companies, and governments alike.

Cropway stands out by offering an integrated AgTech platform that provides technology-enabled, sustainability-focused supply chain solutions. Central to its offerings are geospatial crop advisory and farm intelligence tools, powered by AI algorithms that facilitate real-time price forecasting and early detection of pests or diseases.
The platform goes beyond, enabling fertilizer calculation and crop prediction for enhanced efficiency. One of Cropway's standout features is its Seller Studio, which acts as a bridge, connecting farmers with buyers, processors, and output agencies, facilitating the seamless sale of produce. The platform's Marketplace further contributes by offering doorstep delivery for a range of agriculture-related inputs, chemicals, and commodities.
Startus Insights had previously featured Cropway in their "10 AgriTech Startups to Watch in 2023." This earlier feature showcased the geo-distribution of 2,453 startups and scale-ups analyzed in the "Global Startup Heat Map," benchmarking Cropways space in the global ecosystem for agtech innovations. Cropway's commitment to data-driven decision-making, productivity improvement, and enhanced profitability for agribusiness stakeholders sets it apart as a key player in the industry.
In addition to being featured in the "20 Innovative AgriTech Startups to Watch," Startus Insights' Innovation Map outlines the Top 10 Agriculture Innovations and Trends & 20 Promising Startups.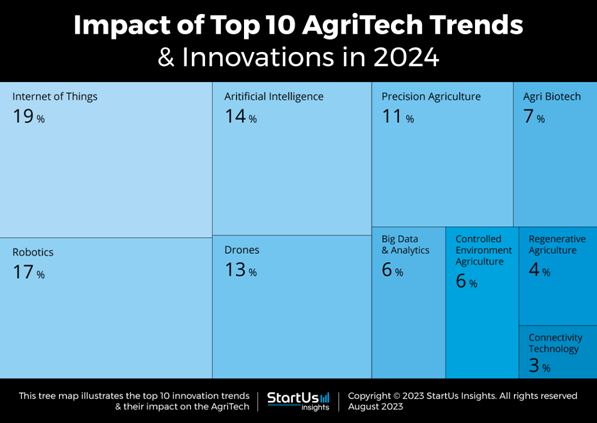 For this in-depth research on the Top AgriTech Trends & Startups, they analyzed a sample of 5290 global startups & scaleups. This data-driven research provides innovation intelligence that helps improve strategic decision-making by offering an overview of emerging agriculture technologies in the industry.Download their free AgriTech Innovation Report for a broad overview of the agritech industry on the latest technologies & emerging solutions that will impact your company in 2024!